Explore Pathways to Healing with Neurosculpting® at Mile Hi Church this October by: Megan Winkler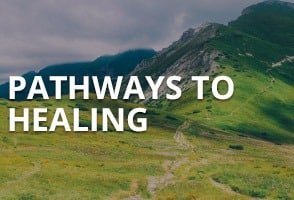 Experience a weekend of healing with Neurosculpting® founder Lisa Wimberger and other experts at Mile Hi Church's Pathways to Healing event, October 7 – 9, 2016. Nurturing the mind, body, and spirit, healers in vibrational sound, nutrition, brain science, ancient shamanistic healing, medicine, and movement will come together for the three-day event.
Lisa will be speaking about brain-based healing and transformation through Neurosculpting®, the modality she created out of a life-long search for practical approaches to dealing with personal transformation. Neurosculpting® teaches you to support yourself through self-directed neuroplasticity, the brain's ability to transform, through the union of neuroscience and meditation practices focused on down-regulating the body's stress center and providing a safe place to work on personal growth and healing.
The weekend will be full of wisdom and healing guided by other experts including Lissa Rankin, M.D., author of Mind Over Medicine; Gary Cook and Pedro Gonzalez, who will demonstrate the ancient art of shamanistic healing; Dr. James Rouse and Dr. Debra Rouse, experts in self-care and nutrition; Jonathan Goldman and Andi Goldman, who will take you on a vibrational journey of healing; and Dr. Roger W. Teel who will speak on healing light energy.

Attendees are also invited to attend complimentary Sunday services at Mile Hi Church.
Dates:
October 7 – 9, 2016
Location:
Mile Hi Church
9077 W. Alameda Avenue
Lakewood, CO 80226
Registration Information:
Find out more and purchase tickets HERE: 
Megan Winkler
Open, friendly, and compassionate, Megan Winkler is inspired to make the world a better place. In 2013, she began studying Neurosculpting®, a brain-based approach to healing through the union of meditation and neuroscience. She found that it settled her mind and helped her manage stress in life-changing ways. In 2014, she completed her Tier 1 certification with the Neurosculpting® Institute. As a meditation instructor, Megan provides a safe, comfortable environment in which students of all ages—eight to 108—can unlock their innate ability to experience change and healing in their own lives. She currently serves as the Neurosculpting® Institute's Editorial Coordinator and Youth Program Co-Developer. She also holds a certification in Nutritional Therapy and regularly integrates nutritional suggestions into classes. When she's not teaching in person or online, Megan can be found working on her tiny home project with partner Mike and her daughter, singing karaoke, or working on her latest novel.  Website: www.thebrainybabe.com