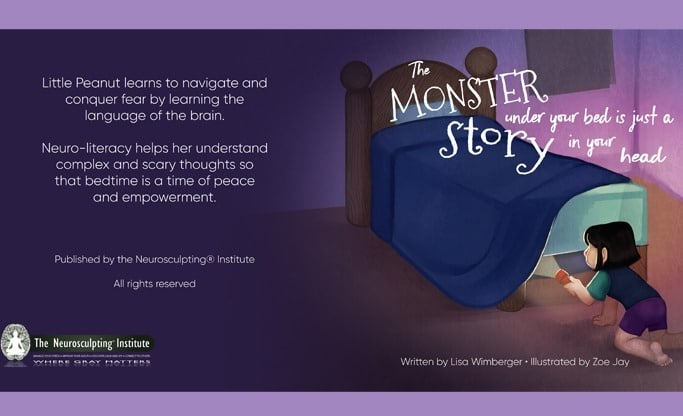 The Monster Story: Neuro-Literacy Tool for Tots and Tweens by: Shanti Medina
The Neurosculpting® Institute recently released its first children's book publication by Founder and Author, Lisa Wimberger: The Monster Under Your Bed is Just a Story in Your Head: Conquering Fear through Neuro-literary (Neurosculpting® Institute Publishing, Jan 2017). It's a story Wimberger told again and again to her very own daughter at bedtime to help her regulate her emotions around scary stories in her head. As Little Peanut learns to navigate and conquer fear by understanding how her brain works, bedtime becomes a time of peace and empowerment for her and all those reading along.
"I am thrilled that the tools and brain information we've used to help so many children deal with stress and fear over the last 10 years are finally available, through fun narrative, in the most cutting-edge children's book on neuro-literacy!" says Lisa Wimberger, author and founder of the Neurosculpting® Institute (NSI).
Tots and tweens are in for a treat with this engaging and enlightening story. Today's world requires cutting edge tools for our children to navigate their day to day life from a place of clarity, strength and stability. Understanding how their brain and body respond to fear allows them to safely become aware of their own stories to choose which of those stories play out in their head. Parents will enjoy opening up a line of communication and support through the Parent Guide and Practices at the end of the book.
What People are Saying
"We're very excited to add this title to our offerings," says Megan Winkler, NSI Editorial Coordinator. "It's easy to read and a fun way to teach kids that they're in control of their emotions. I wish I'd had it when my daughter was younger! It would have saved me many 'monster' inspections before bed."

"The perfect combo of story and science. Brilliant book. A perfect gift for little one's birthday!" reports mother Lisa Marini
How to Order Your Copy and Support the Youth Program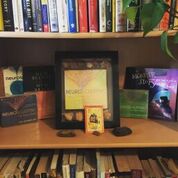 Educators and Bookstores:
Bookstores and educators can order the book wholesale through a retailer account at Create Space. To inquire about Lisa Wimberger coming to your school or bookstore for a speaking engagement, please contact Shanti Medina at Shanti@NeurosculptingInstitute.com . To inquire about beginning a Neurosculpting® Youth Program at your school, contact Director Tamme Buckner at TammeB11@gmail.com.
Parents, Grandparents, Aunts, Uncles:
Order your copy today through Amazon.com 
Sponsors in Support:
Do you work for a company or place of business that may consider being a Youth Program sponsor? We are looking for several sponsors to support NSI in bringing this book to the hands of those who need it most through school activities, public events, and other outreach opportunities to youth-inspired segments of communities around the nation. Please email Shanti@NeurosculptingInstitute.com to discuss being part of this vision.
What's Up Next?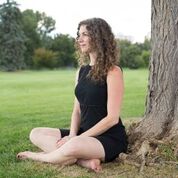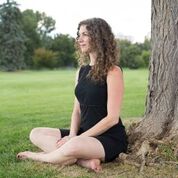 The Neurosculpting® Institute is committed to being part of the solution to engage, inspire and instruct people of all ages to lead productive and peaceful lives. The Monster Story will serve as the textbook for the Neurosculpting® Institute Youth Program which is rolling out in 2017. Save the date for the week-long July Youth Summer Camp at NSI.  
Taking the Next Step
Stay in touch and take the next step with us!
Subscribe to our monthly

NSI Newsletter  to keep up to date on our classes and events and receive our Annual Neurosculpting® Journal as our gift to you to learn about approaches to traumatic brain injury, post traumatic stress disorder, depression and more.  

Visit the Neurosculpting® Institute's Learning Store to train your brain, explore programs, experience classes and enjoy free resources to live a life powered by your intention

Learning Store
Shanti Medina
Shanti Medina is the Director of Development and Branding at the Neurosculpting Institute. She created Energize training systems and Body Current® therapeutics after more than 15 years designing transformational personal therapy and wellness programs for clients. Body Current is an application of somatosensory practices and entrainment principles to empower self-realization and embodied living with each breath.  She is a Certified Neurosculpting® Facilitator and Yoga Therapist sharing her Body Current modality as a presenter at Kripalu Center for Yoga and Health as well as faculty for the Neurosculpting Institute Facilitator Certification. Find out more about Shanti at www.EnergizeShanti.com