My Adventures of Neurosculpting through Tea by: Vija Rogozina
"I think you are ready for a photo exhibit!" – a friend told me, referring to the latest photo of my famous 'traveling teapot' at the majestic summit atop Pikes Peak in Colorado. Honestly, I agree! If Guinness World Records had an entry for 'the most photographed teapot', I'm confident that my Chinese teapot would take the prize! By the way, they do have a category for 'the most valuable teapot'. It is made of gold by an Italian jeweller, with cut diamond covering the entire body and containing a huge ruby in the centre. The teapot's handle is made from fossilised mammoth ivory. 'The most valuable teapot' is valued at $3,000,000 as appraised in 2016.
My teapot's value is measured in experience. As a traveling gnome its adventures took a life of its own. One thing, however, remains unchanged – wherever I take my tea set in the woven basket, some real magic takes place! There's always a communal bonding around an impromptu tea ceremony. People marvel at the hand-stitched insulated basket, at the intricate traditional floral design, all the while enjoying unique and elegant tea leaf blends that I purchase at Asian markets. As I've been taking my tea set along on road trips, many people have taken photos of the teapot strategically placed at panoramic natural locations. I would always carry extra cups to offer some tea to strangers, and that alone is somewhat unexpected. I have many stories of beautiful random encounters that led me to places I'd never find otherwise and new connections rippling out of these encounters.
As for Neurosculpting, one of my favorite things about this modality is the use of imagination. If you are familiar with the practice you know that creating somatic and linguistic links is part of the process. Or, you can imagine a new symbol or imbue an existing object with the new meaning quite intentionally. Our brain loves novelty so we can use this trait to our advantage. So here's my secret: when I came into possession of my tea set, I gave it a meaning of home and an anchor of sanity in my life when I needed it the most. It became my walking act of meditation, a meaningful new ritual, a secular prayer for equanimity.
I came across a strange looking basket at a second-hand store while I was living on a shoestring budget and didn't have a home of my own. I was going through a divorce, couch surfing with a cramped suitcase, looking for affordable and decent housing, juggling being a parent, and navigating my brand new unstable and unpredictable life. It was terrifying at times! But there were a few things that kept me together – Neurosculpting practice, meditation, drinking tea, walks in nature, friends' support and their life-saving couches, and unyielding hope that everything would turn out alright.
I loved this teapot right away, imagining it being the first new item I'd bring to my new home. I was happy to infuse my tea ritual with the sense of calm and hope, sustaining my resolve while gently sipping nourishing green tea. Later I took the set along to my favorite destinations in Colorado and Utah. To admit, I cried when I finally got the keys to my new place and I celebrated with an extra special tea ceremony sitting on the floor of my new empty apartment.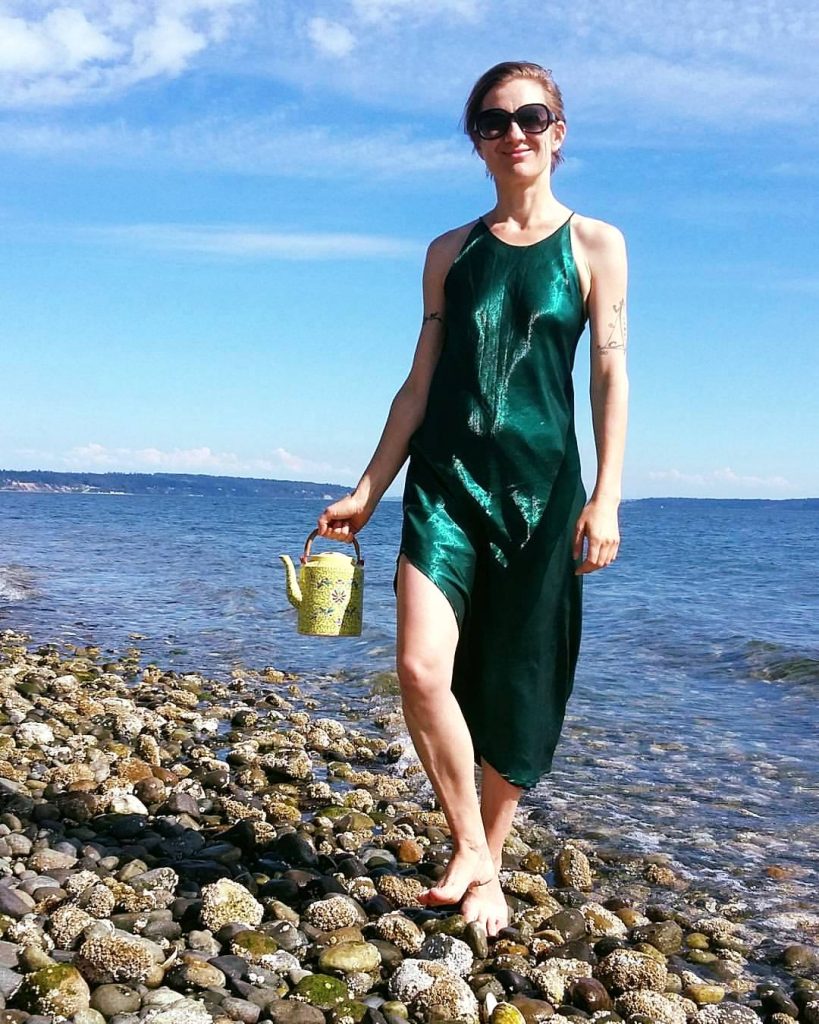 Many more gatherings, road trips and two new homes later and I'm immensely grateful for all the shared moments around the world-famous teapot! All the workshops I've attended, the multitude of tango dance events, meditation gatherings, nature walks, community dinners, art exhibits, picnics, forests, lakes, and beaches… this teapot had connected quite a crowd! And while we can always find solace in slowing down our breath, in feeling the gravity that supports us, or even in a nourishing cup of tea, the real long-lasting magic comes from sharing and the connections we make when we slow down. I believe this is the most remarkable role of my traveling teapot. It is truly the core essence of every holiday we celebrate or gathering we hold: to connect with each other.
So may your season be filled with beautiful, meaningful connections!
Vija Rogozina
Vija is an international educator with meditation experience of over 20 years. Born in Latvia, Vija has lived and worked in the Netherlands, UK, Thailand, India, Colorado and currently lives in Seattle, WA. She speaks four languages fluently and one day hopes to master one more. She is a certified Neurosculpting® Facilitator & Tier 2 Fellow, and has a B.A. in Social Work and a B.A. in Communication. She studied at the University of Leeds, UK, School of Social Work in Latvia, University of Utrecht in the Netherlands and the Academy of Film and TV in Delhi. Vija has practiced meditation in varying forms since her late teens and undergone Buddhist study with Sakyong Mipham at the Shambhala Buddhist Center. She is also a 200 hour certified Kids Yoga instructor, a visual artist and a published author. Vija came to her first Neurosculpting® class with Lisa Wimberger in 2011 when she was faced with unaddressed PTSD and ADD patterns. Neurosculpting® has helped Vija to create a more integrated path in her professional and personal life. Always a seeker, Vija has been pursuing knowledge of human condition and self-discovery, especially after having a spontaneous out-of-body experience and multiple dream visions. A single parent and wellness entrepreneur, she walks her talk and applies self-awareness skills daily. She is in constant awe of unlimited human potential and is honored to be able to share powerful Neurosculpting® tools in the Pacific Northwest and globally. She works with private clients and groups, improving her clients' journey through life. Email: vijarogozina@gmail.com, Website: www.vijarogozina.com